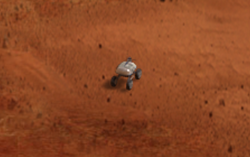 "Blasters devastate invading miners, with greater speed and more powerful weapons.
Beware, they are weaker against transports, and can't hit gunships."
Information
Edit
Blaster Droids have slightly less health than Heavy Miners, but their attack is much more powerful.  Early on, the Blaster Droid is the best choice in rover vs. rover combat.
Blaster Droids are unable to attack gunships, unlike Mining Droids and Heavy Miners, so this restricts their usage somewhat.
When more powerful alternatives become available, Blaster Droids do not see much usage in higher level gameplay.
Level
1
2
3
4
5
6
7
8
Health
304
304
304
358
368
378
440
445
Armor
0
DPS
103
121
121
121
138
138
138
176
Cooldown
0.5
Range
225
225
235
235
235
235
235
250
Splash
125
Speed
1.80
Space
30
Water
803
957
1,149
1,390
1,662
1,929
2,399
2,872
Iron
447
545
651
782
928
1,130
1,339
1,620
Build Time
4m35s
Research Information
Edit
| Level | Water | Iron | Time | Robotics Lab Level |
| --- | --- | --- | --- | --- |
| 1 | | | | 1 |
| 2 | 7,000 | 7,600 | 58m 20s | 2 |
| 3 | 9,900 | 11,600 | 1h 25m | 2 |
| 4 | 18,300 | 19,450 | 1h 56m 40s | 3 |
| 5 | 26,400 | 29,790 | 2h 45m | 3 |
| 6 | 45,100 | 48,150 | 3h 52m 20s | 4 |
| 7 | 71,000 | 80,000 | 5h 16m 40s | 4 |
| 8 | 114,210 | 126,020 | 7h 15m 20s | 5 |