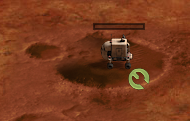 "Detonator droids explode on contact!  Drop them near unsuspecting enemy units."
Information
Edit
"Rolling smart bomb that explodes when within range."
The Detonator Droid is a speedy bomb on wheels.  It self-destructs when it attacks, making it a one-use unit, but the explosion is pretty potent.
It's very fast, so to take it out you need to either sacrifice some units, bring a lot of firepower, or use Gunships which are out of its reach.
Level
1
2
3
4
5
6
7
8
Health
1,620
1,620
1,620
1,906
1,906
1,906
2,324
2,324
Armor
25
DPS
3,230
3,995
4,295
4,295
5,930
6,930
6,930
9,958

Cooldown

1
Range
40
Splash
150
Speed
6.00
Space
25
Water
7,890
9,720
11,420
13,900
16,575
19,920
23,882
28,680
Iron
4,955
6,050
7,190
8,700
10,356
12,455
14,922
17,23
Build Time
21m45s
Research Information
Edit
| Level | Water | Iron | Time | Robotics Lab Level |
| --- | --- | --- | --- | --- |
| 1 | 140,000 | 152,000 | 3h 28m 20s | 3 |
| 2 | 204,000 | 218,000 | 1h 46m 40s | 3 |
| 3 | 302,500 | 340,000 | 2h 23m 40s | 4 |
| 4 | 457,300 | 506,150 | 3h 40m 40s | 4 |
| 5 | 682,700 | 760,360 | 5h 4m 40s | 5 |
| 6 | 1,012,600 | 1,140,070 | 6h 28m | 5 |
| 7 | 1,800,000 | 1,850,000 | 8h 36m 40s | 6 |
| 8 | | | | |