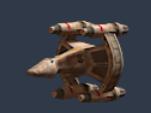 "Fast and furious.  Strikes hard and gets away in a flash."
Information
Edit
"Rains devastation."
The Dragon is a very powerful bomber which excels at destroying buildings.  It ties with the Detonator Droid for being the fastest unit in the game, allowing it to outrun any anti-gunship units that may threaten it.
However, the Dragon has a few limitations: It is very expensive, it takes up a lot of unit space, and takes a long time to build and repair. Additionally, the Dragon's potential firepower is lowered by its minimal splash damage - with indirect-fire and such a small splash radius, it can hardly hit any moving targets.
Level
1
2
3
4
5
6
7
8
Health
1,550
1,550
1,550
1,790
1,790
1,790
2,099
2,485
Armor
17
DPS
2,310
2,586
2,586
2,586
2,895
2,895
2,895
3,251
Cooldown
0.5
Range
300
300
315
315
315
326
326
326
Splash
30
Speed
6.00
Space
230
Water
48,000
66,240
91,411
126,147
174,083
240,235
331,525
457,504
Iron
21,000
26,880
34,406
44,040
56,371
72,155
92,359
118,219
Build Time
2h30m
2h45m
3h1m30
3h19m39
3h39m37
4h1m35
4h25m44
4h52m18
Research Information
Edit
| Level | Water | Iron | Time | Research Center Level |
| --- | --- | --- | --- | --- |
| 1 | 5,000,000 | 3,800,000 | 4d | 6 |
| 2 | 3,800,000 | 2,900,000 | 2d | 6 |
| 3 | 5,054,000 | 4,350,000 | 2d 5h 16m | 7 |
| 4 | 6,721,820 | 6,525,000 | 2d 11h 8m | |
| 5 | 8,940,021 | 9,787,500 | 2d 17h 38m | 8 |
| 6 | 11,890,227 | 14,681,250 | 3d 52m | |
| 7 | 15,814,002 | 22,021,875 | 3d 8h 52 m | 9  |
| 8 | 21,032,623 | 30,032,813 | 3d 17h 46m | |