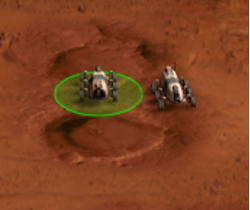 "Excavators can be highly effective against enemy buildings, turrets, and rovers.
Beware, they are less effective against transports, and cannot hit Gunships."'
Information
Edit
The Excavator Droid does phenomenal damage per shot.  It's great for dealing heavy damage to buildings and units alike.
Curiously, the Excavator Droid has a slight armor rating.
Like the Blaster Droid, the Excavator Droid must watch out for gunships, which it is unable to fight back against.
They are a reliable unit, even for higher level players, as they are excellent against Transport units.
Level
1
2
3
4
5
6
7
8
Health
474
521
521
574
574
631
631
694
Armor
1
1
1
1
1
2
2
2
DPS
450
495
495
545
545
599
599
659
Cooldown
2
2
2
2
2
2
2
2
Range
230
230
233
233
236
236
239
239
Splash
N/A (this unit does not have splash)
Speed
2.50
2.50
2.50
2.50
2.50
2.50
2.50
2.50
Space
35
35
35
35
35
35
35
35
Water
1,993
2,691
3,632
4,904
6,620
8,937
12,065
16,287
Iron
1,200
1,536
1,966
2,517
3,221
4,123
5,278
6,755
Build Time
6m35s
6m35s
6m35s
6m35s
6m35s
6m35s
6m35s
6m35s
Research Information
Edit
| Level | Water | Iron | Time | Robotics Lab Level |
| --- | --- | --- | --- | --- |
| 1 | 22,000 | 20,000 | 1h | 1 |
| 2 | 125,000 | 115,500 | 2h 13m 20s | 1 |
| 3 | 183,750 | 179,025 | 2h 44m | 4 |
| 4 | 270,113 | 277,489 | 3h 21m 43s | 4 |
| 5 | 397,065 | 430,108 | 4h 8m 7s | 5 |
| 6 | 583,686 | 666,667 | 5h 5m 11s | 5 |
| 7 | 858,019 | 1,033,333 | 6h 15m 22s | 6 |
| 8 | 1,261,287 | 1,601,667 | 7h 41m 43s | 6 |