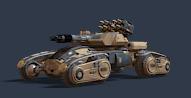 Information
Edit
"Elite upgrade for the Frost Tank."
The Gravity Tank's weapon not only slows its victims, but also places their own gunfire in a statis field, greatly reducing combat effectiveness.
Unlocking
Edit
The Gravity Tank is not normally available as a research option!
The Gravity Tank can only be researched if unlocked by using the Gravity Tank Blueprint item.
The GravityTank Blueprint can be earned in the Eclipse event.  The Blueprint can be purchased for 20,000 Frazil chips where the Frost Tank has been researched to Level 8.
Only Epic bases are visible on the Region Map, so earning the required Frazil chips will not be easy.
| Level | 1 | 2 | 3 | 4 | 5 | 6 | 7 | 8 |
| --- | --- | --- | --- | --- | --- | --- | --- | --- |
| Health | 9,500 | 10,000 | 10,500 | 11,000 | 11,500 | 12,000 | 12,500 | 13,000 |
| Armor | 20 | 20 | 20 | 20 | 20 | 20 | 20 | 20 |
| DPS | 0 | 0 | 0 | 0 | 0 | 0 | 0 | 0 |
| Cooldown | 3.75 | 3.75 | 3.75 | 3.75 | 3.75 | 3.75 | 3.75 | 3.75 |
| Range | 295 | 295 | 295 | 295 | 295 | 295 | 295 | 295 |
| Splash | 150 | 150 | 150 | 150 | 150 | 150 | 150 | 150 |
| Speed | 2.80 | 2.80 | 2.80 | 2.80 | 2.80 | 2.80 | 2.80 | 2.80 |
| Space | 195 | 195 | 195 | 195 | 195 | 195 | 195 | 195 |
| Water | ? | ? | 580,000 | ? | ? | ? | ? | ? |
| Iron | ? | ? | 610,000 | ? | ? | ? | ? | ? |
| Build Time | ? | ? | 4h 22m 5s | ? | ? | ? | ? | ? |
Research Information
Edit
| Level | Water | Iron | Time | Research Center Level |
| --- | --- | --- | --- | --- |
| 1 | | | | |
| 2 | 11,500,000 | 11,900,000 | 2d 22h 30m | |
| 3 | 12,000,000 | 12,400,000 | 3d 12h 35m | |
| 4 | 12,500,000 | 12,900,000 | 4d 5h 34m | |
| 5 | 13,000,000 | 13,400,000 | 5d 1h 52m | |
| 6 | 13,500,000 | 13,900,000 | 6d 2h 17m | |
| 7 | 14,000,000 | 14,400,000 | 7d 7h 24m | |
| 8 | 14,500,000 | 14,900,000 | 8d 14h 29m | |