"Extremely powerful weapon decimates enemy units with each shot.  Vulnerable to swarms of light units, so bring an escort!"
Information
Edit
"Hits enemies with the firepower of a small army."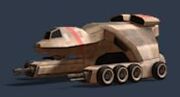 The Hunter is a terrifying unit, with very high health and attack, and is capable of destroying many units in one shot.  The danger is only compounded by its immense splash radius, 
which can destroy whole regions of units at once, and can even catch the speedy Detonator Droids.
Despite its massive firepower and durability, Hunters aren't very flexible due to their slow movement and low rate of fire.  The best way to combat these is either to draw them out to an area where units can be deployed and drop detonators directly on them, or destroy them with Dragons, as they can do enough damage to destroy a Hunter within a reasonable amount of time.
Level
1
2
3
4
5
6
7
8
Health
11,000
11,000
12,760
12,760
14,802
14,802
14,802
17,170

Armor

100
DPS

2,300

2,415

2,536

2,663

2,796

2,935

3,082

3,236

Cooldown

2

Range

308

Splash

200

Speed

1.50

Space

255
Water
240,000
300,000
375,000
468,750
585,938
732,422
915,527
1,144,409
Iron
210,000
262,500
328,125
410,156
512,695
640,869
801,086
1,001,358
Build Time
7h38m40s
Research Information
Edit
| Level | Water | Iron | Time | Research Center Level |
| --- | --- | --- | --- | --- |
| 1 | 4,800,000 | 5,100,900 | 7d6h10m | 9 |
| 2 | 6,096,000 | 6,478,143 | 4d 4h 48m | 9 |
| 3 | 7,741,920 | 8,227,242 | 5d 57m | 9 |
| 4 | 8,832,238 | 10,448597 | 6d 1h 9m | 9 |
| 5 | 12,486,943 | 13,269,718 | 7d 6h 10m | 10 |
| 6 | 15,858,417 | 16,852,542 | 8d 17h | 10 |
| 7 | 20,140,190 | 21,402,728 | 10d 10h 49m | 10 |
| 8 | 25,578,041 | 27,181,465 | 12d 12h 59m | 10 |