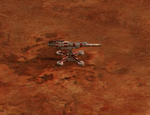 The Long Range Anti-Transport Cannon is an advanced tower with massive range and damage.  A level 5 Central Computer is required to construct LRAT Cannons.  Players are restricted to one cannon until they get a level 7 Central Computer, which allows for two at once.
The LRAT Cannon has massive range and damage.  In fact, it can do enough damage to destroy most Transports in one shot, barring a highly leveled Hunter.
However, the LRAT Cannon has a very slow rate of fire and cannot target Gunships.  The slow firing rate combined with its lack of splash damage makes it easy to use weaker units to bait the first shot.
Level
1
2
3
4
5
6
7
8
9
10
Health
3,000
4,800
6,000
7,500
10,000
10,000
10,000
10,000
10,000
10,000
DPS
1,852
1,852
2,177
2,177
2,609
2,609
3,127
3,127
3,749
3,817
Cooldown
6
6
6
6
6
6
6
6
6
6
Range
400
425
450
475
500
525
550
575
600
625
Splash
N/A (this unit does not have splash)
Power Usage
120
168
235
330
461
645
903
1,264

1,770

2,479
Construction
Edit
| Level | Water | Iron | Build Time | Central Computer Level |
| --- | --- | --- | --- | --- |
| 1 | 2,750,000 | 3,250,000 | 1d 10h 30s | 5 |
| 2 | 3,433,980 | 4,058,340 | 2d | 5 |
| 3 | 4,288,079 | 5,067,730 | 2d 12h | 6 |
| 4 | 5,354,610 | 6,328,176 | 3d | 6 |
| 5 | 6,686,409 | 7,902,120 | 6d | 7 |
| 6 | 8,349,453 | 9,867,535 | 12d | 7 |
| 7 | 10,426,129 | 12,321,788 | 18d | 7 |
| 8 | 13,019,315 | 15,386,464 | 27d | 7 |
| 9 | 16,300,000 | 19,200,000 | 40d 12h | 7 |
| 10 | 20,300,000 | 24,000,000 | 60d 18h | 7 |