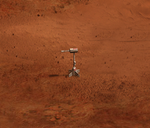 The Light Rail Gun is one of the two defensive towers immediately available to build.  Upgrading the Central Computer will allow more Light Rail Guns to be built.
The Light Rail Gun has shorter range than the other defensive buildings, but is capable of shooting at Gunships.  Keeping it upgraded is essential to keep it able to defend against increasingly powerful threats.
Due to the Light Rail Gun's limited range, the Rocket Pod can usually fire at it while avoiding any return fire.  Protecting Light Rail Guns with Defensive Cannons or units can help stop this from happening.
Level
1
2
3
4
5
6
7
8
9
10
Health
3k
4.8k
6k
7.5k
10k
10k
10k
10k
10k
10k
DPS
385
470
520
620
720
820
920
1,010
1,120
1,250
Cooldown
0.25
0.25
0.25
0.25
0.25
0.25
0.25
0.25
0.25
0.25
Range
336
342
347
351
357
362
377
379
383
387
Splash
N/A (this unit does not have splash)
Power Usage
9
28
50
78
100
143
178
225
265
315
Construction
Edit
| Level | Water | Iron | Build Time | Central Computer Level |
| --- | --- | --- | --- | --- |
| 1 | 480 | 900 | 1m10s | 1 |
| 2 | 7,850 | 5,800 | 4m40s | 1 |
| 3 | 21,200 | 16,700 | 14m50s | 2 |
| 4 | 52,005 | 39,450 | 29m10s | 2 |
| 5 | 167,500 | 107,780 | 1h2m5s | 3 |
| 6 | 340,890 | 269,870 | 1h58m25s | 3 |
| 7 | 976,507 | 723,440 | 4h2m5s | 4 |
| 8 | 2,425,600 | 1,794,500 | 8h5m | 4 |
| 9 | 7,040,005 | 5,200,000 | 16h1m40s | 5 |
| 10 | 17,081,408 | 11,832,000 | 1d7h58m | 5 |