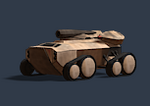 "Heavy armor and a big cannon. Best against slow moving enemies."
Information
Edit
The Muscle Box is the first Transport any player gets, starting the game with one.
Muscle Boxes have the highest health of any lower-tier Transport, the next Transport to beat it being the Motion Cannon. This makes them perfect for absorbing damage to protect other units.
The Muscle Box is strange in that it actually shoots more slowly as it gets upgraded.  However, as this affects cooldown and not DPS, this means the Muscle Box does more damage per shot as a result.
Level
1
2
3
4
5
6
7
8
Health
2,000
2,000
2,000
2,300
2,300
2,300
2,800
2,800
Armor
8
8
8
8
8
10
12
14
DPS
300
350
350
350
410
410
410
550
Cooldown
1.5
2
2
2
2.5
2.5
2.5
2.5
Range
270
270
300
300
300
330
330
330
Splash
60
Speed
2.00

85

2,450
3,300
3,300
3,300
17,000
17,000
17,000
17,000

2,100
2,500
2,500
2,500
11,500
22,500
22,500
22,500

30m
31m40s
33m20s
35m
36m40s
38m20s
40m
41m40s
Research Information
Edit
| Level | Water | Iron | Time | Research Center Level | Transport Factory Level |
| --- | --- | --- | --- | --- | --- |
| 1 | 148,100 | 165,100 | 4h10m | 2 | 2 |
| 2 | 102,400 | 115,300 | 2h10m | 2 | 2 |
| 3 | 167,500 | 183,000 | 2h30m | 3 | 2 |
| 4 | | | | | |
| 5 | 360,000 | 420,000 | 4h13m50s | | |
| 6 | 550,000 | 585,000 | 6h15m40s | | |
| 7 | 790,700 | 950,000 | 6h45m30s | | |
| 8 | 1,281,000 | 1,300,300 | 9h46m40s | | |